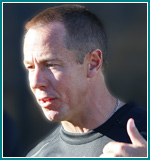 Head Coach/Camp Director
Paul Hogan
2017 - Hogan just completed his 7th season at Coastal Carolina University with a 11-8-1 record and Coastal Carolina's second consecutive trip to the Sun Belt Conference Tournament Championship.
2016 - Hogan led the Chanticleers to a 12-8-2 record and second place regular season finish in the Sun Belt Conference. The Chanticleers advanced to the Sun Belt Conference Tournament Championship game before falling to #1 Seed South Alabama. Three Chanticleers earned All Sun Belt Conference accolades. Daniella Famili & Amber Adams were also named to the NSCAA All South Region Teams.
2015 - The Chanticleers finished with an 12-7-2 overall record, advanced to the Big South Tournament semifinals, and finished in second place during the regular season of the Big South. Hogan was named 2015 Big South Coach of the Year for the second straight year.
2014 - Hogan was named the Big South Coach of the Year in 2014 He and his Chanticleers took more steps forward in the programs progression, posting their best campaign in six years. After tying for second place in the Big South during the regular season with a 7-2-1 record, its best finish since 2010, Coastal notched its first conference tournament win since 2008. CCU finished with an 11-8-2 overall record and the 11 victories provided a third straight double digit win season and were also the most for Coastal since 2008.
2013 - Hogan led the Chanticleers to a 10-8-2 overall record and fifth place finish in Big South play at 7-4. Once again Coastal Carolina saw improvements. The Chants set a Coastal Carolina record of 11 shutouts and another school record of 15 total goals allowed.
2012 - Coastal saw a dramatic improvement under Hogan during his second season, notching eight more victories than the previous year. The Chanticleers finished 10-9 overall and went 7-4 in Big South play, including a perfect 5-0 mark at home.
2011 - Hogan's first season saw Coastal finish with a 2-15-2 record as the Chanticleers fell short in numerous one goal games.
2001 - 2010 - University of Colorado Associate Head Women's Soccer Coach. Helped the Buffaloes compile a 104-64-24 (.604) record and a national ranking at the end of the 2003, 2005, 2006 and 2008 seasons.Hogan helped direct the Buffaloes to a 2003 Big XII regular season title, the first in school history, and Big XII Tournament Finals in 2005, 2006 and 2008. In his 10 years, the Buffaloes competed in six NCAA Tournaments, including a run to the Sweet 16 during the 2006 season.
1998 - 2000 Allegheny College Head Men's Soccer Coach. He guided the Gators to a 35-16-7 (.686) overall record and 17-6-2 (.739) North Coast Athletic Conference mark, while producing 16 All-NCAC players. Hogan was named North Coast Athletic Conference Coach of the Year in 1999.
1996/1997 - Duke University Men's Soccer Assistant Coach - Helped lead program to a 1997 ACC Regular Season Championship.