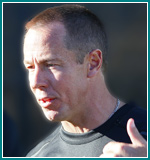 Head Coach/Camp Director
Paul Hogan
Paul Hogan just completed his 6th season at Coastal Carolina University. In 2016 Hogan led the Chanticleers to a 12-8-2 record and second place regular season finish in the Sun Belt Conference. The Chanticleers advanced to the Sun Belt Conference Tournament Championship game before falling to #1 Seed South Alabama. Three Chanticleers earned All Sun Belt Conference accolades. Daniella Famili & Amber Adams were also named to the NSCAA All South Region Teams.
In 2015 The Chanticleers finished with an 12-7-2 overall record, advanced to the Big South Tournament semifinals, and finished in second place during the regular season of the Big South. Hogan coached freshman, Kayla Christian, to Freshman of the Year honors while guiding five other Chanticleers to Big South All-Conference teams. Hogan was named 2015 Big South Coach of the Year for the second straight year.
Hogan was named the Big South Coach of the Year in 2014 He and his Chanticleers took more steps forward in the programs progression, posting their best campaign in six years. After tying for second place in the Big South during the regular season with a 7-2-1 record, its best finish since 2010, Coastal notched its first conference tournament win since 2008. CCU finished with an 11-8-2 overall record and the 11 victories provided a third straight double digit win season and were also the most for Coastal since 2008. Senior forward Kacey Kelley also made history individually under Hogan, becoming the first Chant to earn NSCAA All-Region honors and the second to be named Big South Player of the Year. Five other Coastal players collected all-conference honors.
In 2013 Hogan led the Chanticleers to a 10-8-2 overall record and fifth place finish in Big South play at 7-4. Once again Coastal Carolina saw improvements. The Chants set a Coastal Carolina record of 11 shutouts and another school record of 15 total goals allowed. Hogan coached seven players to All-Big South honors, as junior forward Rylie Johnson and sophomore midfielder Fia Jonsson were named to the first team. Second team All-Big South honors were awarded to senior Alyssa Clark and junior Kacey Kelley while freshmen Sam Patterson & Brianna Panico were named to the All-Big South freshmen team.
Coastal saw a dramatic improvement under Hogan during his second season, notching eight more victories than the previous year. The Chanticleers finished 10-9 overall and went 7-4 in Big South play, including a perfect 5-0 mark at home in which it outscored its opponents 12-1 and knocked off three teams who were in first place at the time. The Chants decreased their goals allowed from 40 in 2011 to a school-record 20 and posted eight shutouts, the second-most in school history while surrendering the fewest shots of any Big South team. Hogan coached three players to All-Big South honors, as forward Kacey Kelley was named to the first team, while midfielder Fia Jonsson and defender Cami Skladany were selected to the second team. Jonsson was also tabbed the league's Freshman of the Year. Additionally, Kelley and Skladany earned conference Player of the Week honors during the season.
Hogan's first season saw Coastal finish with a 2-15-2 record as the Chanticleers fell short in numerous one goal games.
Hogan spent 10 seasons, including the five as associate head coach, under Colorado head coach Bill Hempen, helping the Buffaloes compile a 104-64-24 (.604) record and a national ranking at the end of the 2003, 2005, 2006 and 2008 seasons.Hogan helped direct the Buffaloes to a 2003 Big XII regular season title, the first in school history, and Big XII Tournament Finals in 2005, 2006 and 2008. In his 10 years, the Buffaloes competed in six NCAA Tournaments, including a run to the Sweet 16 during the 2006 season.
Prior to his arrival in Boulder, Hogan spent three seasons at Allegheny College where he guided the Gators to a 35-16-7 (.686) overall record and 17-6-2 (.739) North Coast Athletic Conference mark, while producing 16 All-NCAC players. Hogan was named North Coast Athletic Conference Coach of the Year in 1999.
Hogan made the leap to head coach in April 1998 from Duke where he was an assistant for the 1996 and `97 seasons. He assisted the Blue Devils to a two-year record of 28-11. In 1997, Duke finished 15-5-0, including a 4-2-0 mark in Atlantic Coast Conference action, and won the ACC regular season championship. Over his two seasons, Hogan helped coach three All-Americans and 11 All-ACC selections.